Join an existing adventure as an individual or get together a team of your own.
If you're not sure where to go – check out these options from our adventure partners On Track Expeditions.
If you know where you'd like to go contact us and On Track can help create an exclusive bespoke adventure just for you!
Check back often – as the world opens back up more options will become available.
The Cape to Cape Trek (WA) 15th – 22nd May 2021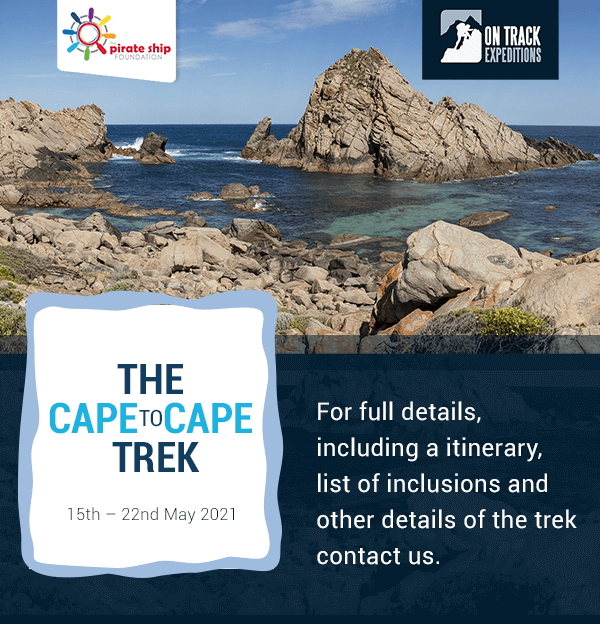 The Cape to Cape Walk Track runs for 123 kilometres along the Leeuwin-Naturaliste Ridge, between the lighthouses of Cape Naturaliste and Cape Leeuwin in the far south west of Western Australia. It features spectacular coastal and forest scenery, a fascinating geology of cliffs, caves, headlands and rock formations and an ever-changing display of vegetation and wildflowers.
Our expedition partners On Track Expeditions take care of your food, tents, all park fees, permits and campsite costs, and transport from Perth.
For full details, including a itinerary, list of inclusions and other details of the trek contact us.
Adventure: Cape to Cape
Dates: 15th – 22nd May 2021
Team Size: Min 5, Max 10
Cost / person: $1,995
Inclusions: Transport to and from Perth, 2 expedition guides, camping and cooking equipment, tents, all park fees, permits and campsite costs,
Booking Portal: The Pirate Ship Foundation's Cape to Cape Expedition 2021